LED lighting makes Ir. Ottenbad more sustainable, safer and more varied
Since its foundation in 1969, Ir. Ottenbad in Eindhoven has been a forerunner. Back then with its modern facilities and swimming lessons. Nowadays with its focus on sustainability. This is reflected in the green energy generated by the bath via a special biomass plant. And now also the sustainable LED lighting from EVA Optic, on the ceiling and in the baths.
Municipal goals
Sustainability was therefore one of the three spearheads of the Municipality of Eindhoven, in order to have the lighting of the Ir. Ottenbad replaced. "In October 2018, we started replacing the lighting of the Ir. Ottenbad. With three main objectives: sustainability, safety and offering more functionality for visitors and associations," says Marc Bax, Manager Technical Affairs at the Municipality of Eindhoven in this video.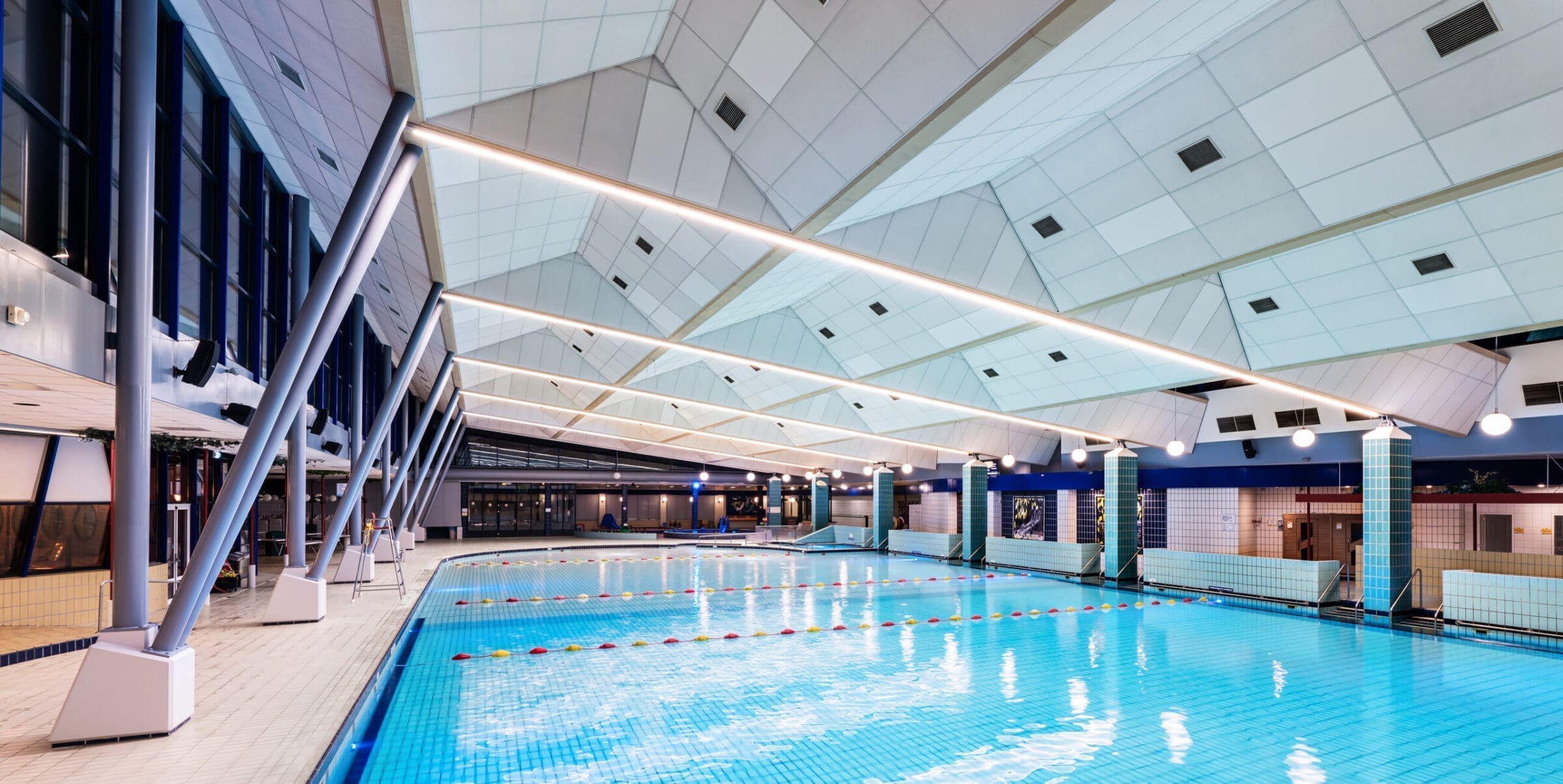 Save on energy and maintenance
These objectives have been amply achieved. "We were able to achieve energy savings of more than 80 percent," says Marc enthusiastically. "LED lighting lasts longer than conventional lighting. As a result, we have to replace the lamps less frequently."
The safety of the swimming pool has also improved considerably with the arrival of the new LED lighting, says Marc: "The supervisors, who are standing at the edge of the pool, now have a good view of the visitors. Because there is more visibility to the bottom."
Optimal comfort and atmosphere
In addition, much attention has been paid to comfort and atmosphere in and around the baths. "The competition lighting has been upgraded and multi-colored underwater lighting has been installed, which moves along with the music," says Marc. The swimming pool is also equipped with adjustable LED lighting above the paddling pools and warm-coloured, adjustable LED lighting above the sun terrace.
Up to date
Minke van Hamont, swimming pool team leader at the Municipality of Eindhoven, is also very happy that there is finally new lighting. "Everything is finally a bit up-to-date again. Our bath is beautiful again!"